28th of December 2012 Update of New and Key Restocked Items + Reviews
at Redscroll Records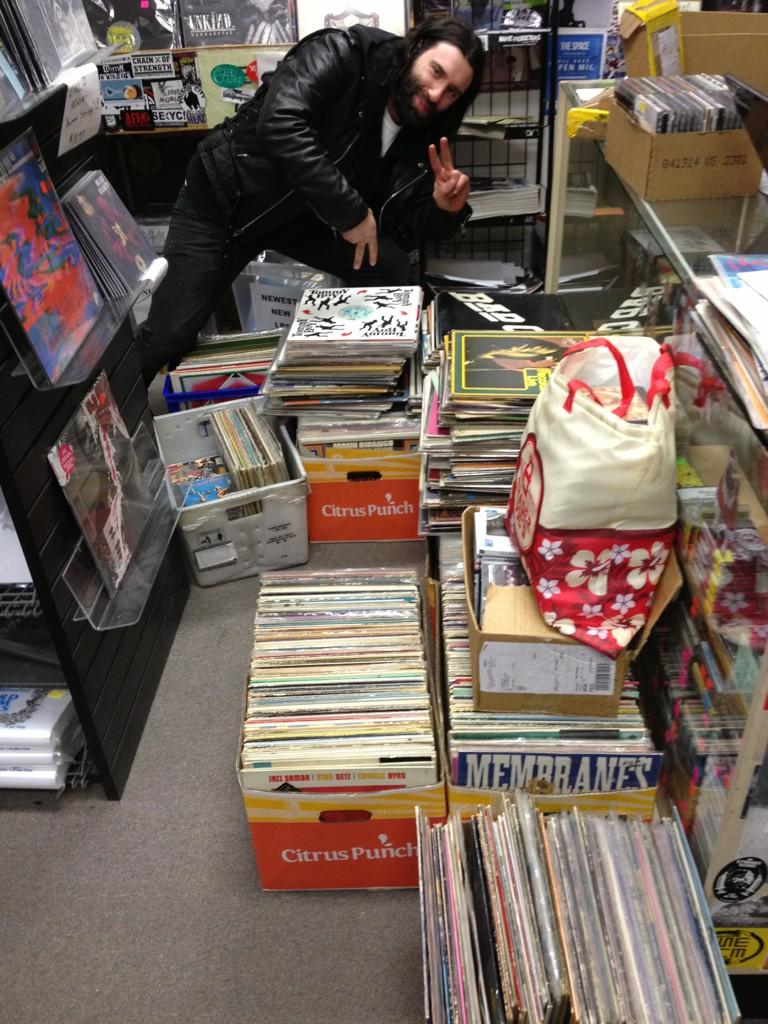 LPs & 12"s
______________________
Abductee S.D. "Won't Stand Down"
Acid Problem "Acid Problem"
Altars "Live On Pure Hate"
AnD "Features / Vol 3"
Atkins, Juan "Ohh La La / Electric Jungle / Impulse"
Aus-Rotten "The Rotten Agenda"
Autarkeia "Autarkeia"
Balance Of Terror "A Better Tomorrow"
Band Name "Breakfast"
Bestial Warlust "Satan's Fist: Demo '96"
Bible Thumper "Decimation"
Big Fiction "Big Fiction"
Brain F=/= (Brain Flannel) "Sleep Rough"
Brain Tumors "Brain Tumors"
Burial "Truant / Rough Sleeper"
Cloud Rat / The Oily Menace / Wolbachia "Cloud Rat / The Oily Menace / Wolbachia"
Cloud Rat / Xtra Vomit "Cloud Rat / Xtra Vomit"
Cocerell, Joe "Commerce Above All Else / Foundation / Poptones"
Deep Sleep "Turn Me Off"
Distal Ft. DJ Rashad "Stuck Up Money"
Electric Funeral "D-Beat Noise Attack / Make A Change"
Extinction Of Mankind "Northern Scum"
Fishbone "Crazy Glue" (Ltd. Ed. Colored Vinyl)
Florence And Libby / We Were Skeletons / Kids / Paxton "Florence And Libby / We Were Skeletons / Kids / Paxton"
Four Tet "Jupiters (Happa Remix) / Lion (Jamie XX Remix)"
From Ashes Rise "From Ashes Rise"
From Ashes Rise "Silence"
Herbaliser, The "There Were Seven" (2LP)
Hodge "Dusted EP"
Hummingbird Of Death "Skullvalanche"
Hummingbird Of Death / Titanarum "Hummingbird Of Death Meets Titanarum"
In Aeternam Vale "La Piscine"
Karenn "(Untitled)" (Sheworks 004 2x12")
Keys, Alicia "Girl On Fire"
Kitty Little / Kiss Ups "Kitty Little / Kiss Ups"
KRTS "The Dread Of An Unknown Evil" (2LP)
Last Japan "Ambush EP"
Legowelt "The Paranormal Soul" (2LP + 10")
Long Arm "The Branches" (Deluxe Edition; 2LP)
Lower Dens "Nootropics" (Gatefold 2LP + Poster + D/L)
MK Ultra / Seein' Red "MK Ultra / Seein' Red"
Moodyman "Tribute To The Soul…"
Moodyman "Freaky Mother Remix"
Nasum "Grind|Finale" (Colour Vinyl 4LP Set)
Oak & Bone "Oak & Bone"
Old Apparatus "Realise"
Old Apparatus "Harem"
Palmer, Amanda & The Grand Theft Orchestra "Theatre Is Evil"
Peace Or Annihilation "Fear Control"
Raime "Quarter Turns Over A Living Line"
Rational Animals "Bock Rock Parade"
Rrose "Wedge Of Chastity"
SHXCXCHCXSH "RJRJRFFRJRJ" (Purple Vinyl)
Skirt "Bitten By The Black Dog"
Skitsystem (Skit System) "Gra Varld / Svarta Tankar"
Skitsystem (Skit System) "Stigmata"
Songs For Moms "I Used To Believe In The West"
State Poison "State Poison"
Stripmines "Crimes Of Dispassion"
These Needles "These Needles"
TM404 + Morphosis "The Morphosis Korg Response"
Vakula & Dusty Baron "Autumn Leleka" (12" + 7")
Vatican Shadow "It Stands To Conceal" (3LP)
ZZZZZ, The / Abdulla Rashim "Radioactive Orchestra Remixed"


10"s
______________________
Bleaching Agent "Part Two"
Crow's Foot "Critical Condition"


7"s
______________________
ACxDC "The Second Coming" (White)
Big Eyes "Back From The Moon"
Brain Tumors "Brain Tumors"
Brown Sugar "Luvly"
Canadian Rifle "Facts."
Cloud Rat / Autarkeia "Cloud Rat / Autarkeia"
Figgs, The "Casino Hayes"
Fucked Up "Dance Of Death"
Fucked Up "Police"
Globsters "Rock + Roll Misery E.P."
Grin And Bear It "Grin And Bear It"
Herds "Michigan"
Hip Cops "In The Shadow Of A Grinding Death"
House Boat "Processing Complaints"
Meat Mist / White Slaves "Meat Mist / White Slaves"
Mellow Harsher "Mellow Harsher"
Meth Mountain "Monotony"
Nukkehammer "Soviet Rust Belt E.P."
Pig Heart Transplant / Endless Blockade "Pig Heart Transplant / Endless Blockade"
Pukeoid "Pukeoid" (Pink)
Rancid "Ruby Soho"
Rat Storm "Fractured"
Snowing "Pump Fake / Scherbatsky"
Surrender "There Is No War"
Tilly And The Wall "Defenders / Defenders (Stag Hare Remix)"
Torche "Harmonslaught" (/1000)
Utah Jazz "Utah Jazz"
Various "Punx Don't Drink"


Cassette
______________________
Ensemble Economique "Live In London"


CDs
______________________
Cocteau Twins "Victorialand"
White, Peter "Perfect Moment"


Magazine
______________________
ARTHUR! Newsprint Magazine #33


Reviews
_____________________


Black Moth Super Rainbow Cobra Juicy
(Rad Cult)
On their fifth full-length, this mysterious Pittsburgh-based experimental band further explores their well-established sound of sun-tinged, lo-fi neo-psychedelia. The most crucial elements of their wistful Candyland-on-acid atmosphere are the lush, colorful walls of synth paired with lead vocalist Tobacco's lush, moody vocoder voice: both are omnipresent here yet again. Tracks such as opener "Windshield Smasher" and "Hairspray Heart" surprised me by setting a groovy rock-and-roll foundation, while "Psychic Love Damage" expresses light-headed romance with delicate strums gliding in a way that reminds me a bit of "Free Bird." Sweetly textured songs such as "Like a Sundae" and "Dreamsicle Bomb" feel closer to the original, more synth-driven sound that feels like exploring lands made out of totally edible sweets. Closing track "Spraypaint" demonstrates the most resonant expression of love, emphasizing that "I can't be without you" as the backing synth flourishes like sunlight filling a room.
[Reviewer: Mark]


PAWS Cokefloat!
(Fat Cat)
This Glasgow, Scotland-based trio's debut full-length excellently captures their sunny, fittingly lo-fi garage rock. Right from the beginning, lead singer Phillip Taylor sings a catchy, reminiscent tribute to his mother whom he lost to cancer: though he'd "trade anything" to hear her voice again, he finds solace by repeating the sentiment that "life goes on." The hard-rocking "Bloodline" explores the same theme by recalling that she stays alive because, along with advice, she gave him her nose and eyes. "Homecoming" uses cathartic sarcasm to thank someone ten years after high school, complete with revenge by means of a lead pipe to the teeth. These kinds of tracks let out sadness with youthful, fist-pumping energy; it's much better than dwelling too much on trying to gain uncomfortable sympathy from others. Taylor, of course, is no stranger to realistic, relatable mood changes: for example, he ladles out slow-simmering angst on the acoustic ballad "Get Bent," angrily directed toward a thoughtless, destructive father who just can't seem to listen. He gets the most aggressive on the heavy, to-the-point "Winners Don't Bleed," primarily screaming to get someone to shut up.
[Reviewer: Mark]


As ever, if you're viewing from a non-drivable distance please check what we have for sale (these titles and more) at http://www.discogs.com/seller/Redscroll.